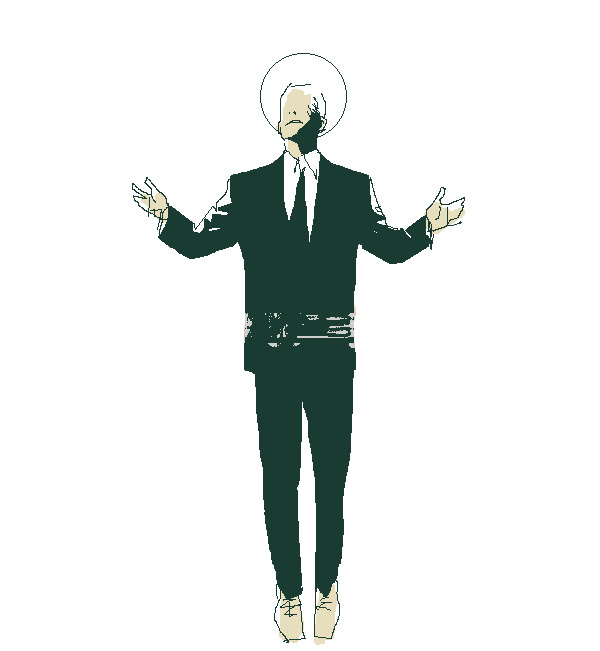 The first eighteen years of my career were spent in the commercial universe, leading design studios on both coasts, doing award-winning work for clients large and small. 
1999 to 2004
Turner & Associates (a design communications firm) 
Position: Communications Director
I moved to California in May of 1999 for the opportunity to work with Turner & Associates, an up-and-coming design communications firm. The Internet boom was in full swing and the ability to generate unique ideas and integrate compelling storylines in a variety of media commanded a premium in a very lively marketplace. This provided welcome relief from the heavy-duty corporate entanglements that defined my previous engagement. In order to place an emphasis on the firm's storytelling abilities, I assumed the title of Communications Director. In this capacity, I led the creative charge: conducting client interviews, crafting strategy, drafting creative briefs, writing copy, assigning creative duties, supervising creative development and production. Additionally, I directed the firm's marketing efforts, managed client accounts, conducted new business presentations, and wrote everything from proposals, business plans to white papers and strategic briefs. 
During this fertile five-year period, virtually everything that Turner & Associates produced was published in some shape, form or fashion. Clients included: Adaptec, Macromedia, Yahoo!, PeopleSoft, Robert Mondavi, The Walt Disney Company, Clorox, Cost Plus World Market, WD-40, AIGA, Invisalign, Anderson Lithograph and Hemlock Printers.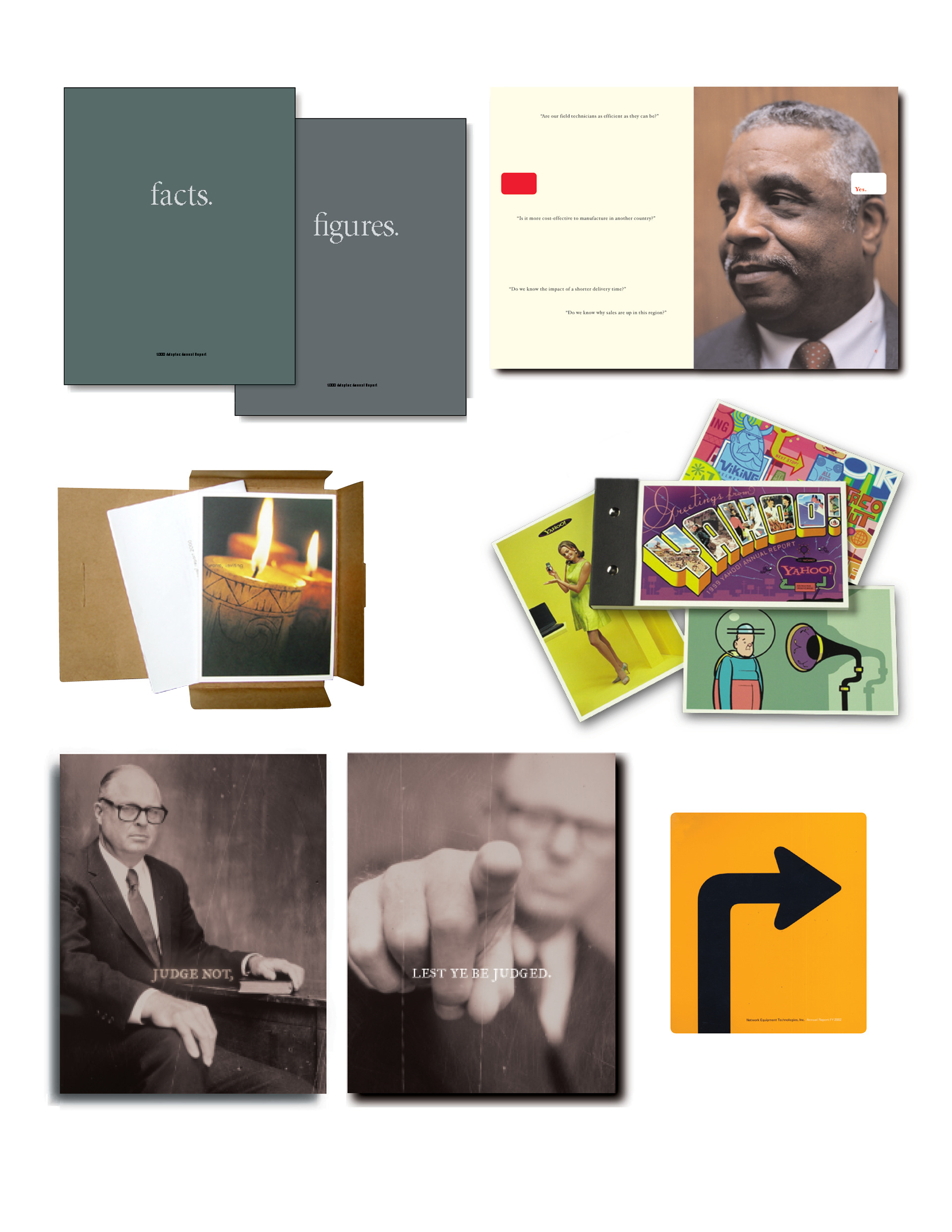 1989 to 1999
EAI/Atlanta (a graphic communications firm, now doing business as "unboundary")
Position: various, from Designer to Principal/Director of Creative Services
When I joined a firm named Executive Arts, Inc in 1989, I was the fourth employee of an unknown design firm then partnered with a service bureau. A corporate divorce left the studio in a warehouse behind a strip club on the wrong side of town with rats in the kitchen. However, careful management of the slim business we had led to more serious inquiries, and soon — as self-styled creative hit men for hire — we were off to bigger and better things.
Ditching the generic name for an anonymous moniker (EAI/Atlanta), we were soon pulling together annual reports and corporate communications for Fortune 50 companies, building a national reputation along the way. I eventually became a managing principal overseeing dozens of people on a grueling series of projects for large (and demanding) clients including IBM's first ever interactive annual report (simultaneously released in print, online and on CD-ROM). Responsibilities included strategy, concept, design, supervision of a new media division, contractor and vendor selection, client presentations, traveling photo shoots and production of print collateral. Despite the firm's success, the opportunity to live and work in California provided an irresistible lure.
Clients included: IBM, The Coca-Cola Company, AT&T, Seagate Technology, Compaq, Nabisco, Equifax, Turner Broadcasting Systems , Potlatch Paper and Dickson's Specialty Printing.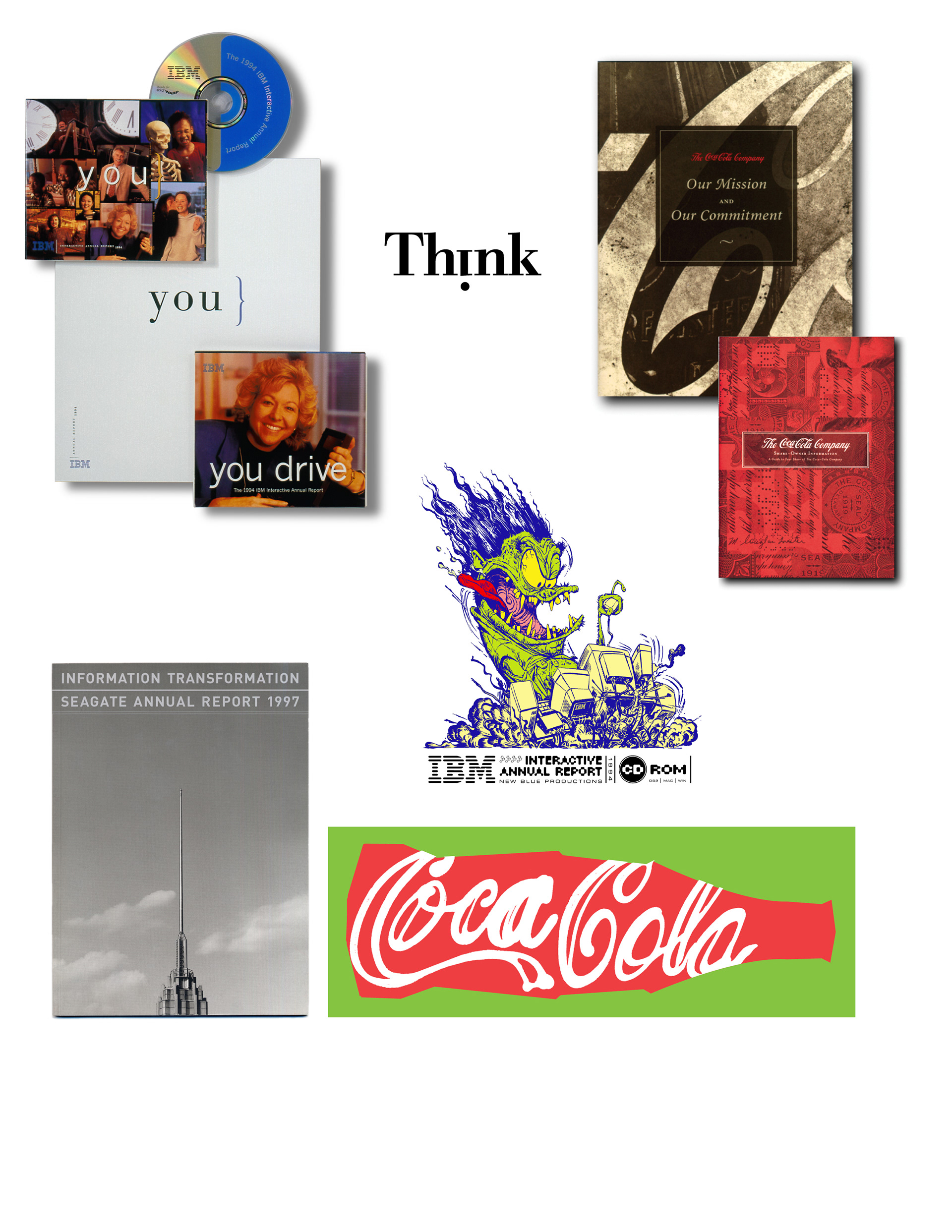 Collaborators in this period are too numerous to mention — but a class photo of EAI/Atlanta circa 1997 provides at least some indication.